Sausage wrap?
We go to get some BBQ this evening and I get my peach cobbler, potato salad, baked beans, some lincs and brisket sandwiches. And I'm looking at the menu and sausage wraps?
What's a sausage wrap?
Someone wants a wrap at a BBQ place?
So I ask and at this place, a sausage wrap is a tortilla around a linc sausage.
Now before I was thinking, "How frou frou and bougie can you get?"
But then I was like, "Huh?"
Seriously, I love breakfast burritos, etc.
But even I would not want to eat a sausage in a tortilla.
I asked, "Do you make the tortilla's here?"
No.
They buy those already made Mission tortillas that you see in the grocery store.
Well you put them on the grill right, you heat them up?
No.
Just grab one out of the plastic and wrap it around a sausage.
"The sausage is hot," the woman behind the counter said very slowly, "so the tortilla does not need to be warmed."
Uh-huh.
It sounded awful.
So my girlfriend and I ordered one to try it and see if it was a bad as we expected.
It was worse.
Imagine a store bought tortilla in a bag that's been sitting there for weeks or more.
It's hard.
It doesn't really bend.
The notion that the linc is hot so it will warm the tortilla?
No.
Just creates a BBQ spot on it.
Maybe you can come across better sausage wraps but I would say don't try it.
Here's C.I.'s "
Iraq snapshot:"
Tuesday, September 26, 2017. The day after the historic vote in northern Iraq.
Yesterday, a historic referendum was held in northern Iraq. Results above from
RUDAW
, the official results will be released later-- some day two to three days but
Susannah George (AP) reports
the results are expected this evening. .
RUDAW explained
the referendum as follows:
More than five million people are eligible to vote when the people of Kurdistan head to the polls on Monday, September 25, to decide whether they want to leave or stay with Iraq.

With an estimated global population of between 30 and 40 million, the Kurds are one of the largest ethnic groups without a state. Under the post-WWI Sykes-Picot agreement of 1916, Kurdish lands were divided between Turkey, Iran, Iraq, and Syria.

Kurds in all four parts of what is known as Greater Kurdistan have faced persecution, discrimination, and genocide, and have fought at times for greater rights, autonomy, and independence.

In Iraq, Kurds make up 17 to 20 percent of the total population. In the Kurdistan Region of northern Iraq, Kurds have had a semi-autonomous government since a no-fly zone was established over their lands in 1991 after the first Gulf War.

The new Iraqi constitution that came into effect in 2005, after the US-led invasion of 2003, recognized the Kurdistan Region as a federal region with its own legislature and armed forces, the Peshmerga. Both Erbil and Baghdad have accused the other of violating the constitution.

The September 25 referendum will take place in Kurdistan of Iraq only, not neighbouring countries.
It's worth noting that this vote was put together in about three months. It's also worth noting that provincial elections were supposed to have taken place throughout Iraq earlier this year, then pushed back to September, then pushed back to next year.
Voters in Zakho can not wait until morning. They already started to build lines.
#
KurdistanReferendum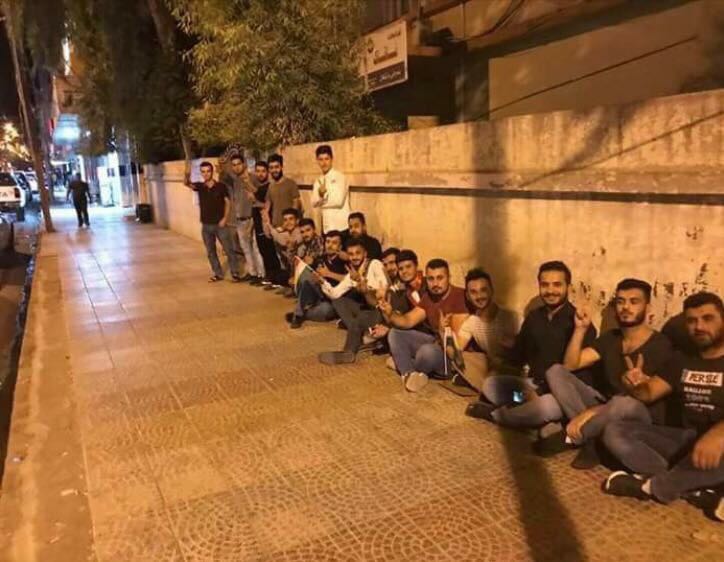 At least one area appears to have voted "no."
While the US White House opposed the vote, at least two members of the US Congress applauded it.
Ranking Member of the House Foreign Affairs Committee Eliot Engel issued the following:
Engel Statement on Kurdish Independence Referendum
09/25/17
And US House Rep Trent Franks' office issued this:
While some were happy regarding the vote, others were less so and threats and intimidation also took place.
As the Iraqi military joined with Turkey to intimidate the KRG, this Tweet probably summed up the absurdity best.
In other news, Monday saw mass executions carried out by the Iraqi government. In response, Amnesty International issued the following:
The following community sites - plus Jody Watley, BLACK AGENDA REPORT, PACIFICA EVENING NEWS, Tavis Smiley and Cindy Sheehan -- updated: