Julian Assange is under attack and has been. But now he's also having his contact with the outside world restricted.
She's running for the US Senate.
Here's C.I.'s "
Iraq snapshot
:"
Yes,
we're back to the issue
of does violence only matter when effects White kids in the US? Do the lives of Iraqis -- including Iraqi children -- not matter at all?
Ajamu Baraka (BLACK AGENDA REPORT) observes
:
Glen Ford (BAR) points out
:
We've been "Down So Long"
Jewel
notes but doing for-show and feel-good fauxtests won't change a thing ("Down So Long" first appears on Jewel's SPIRIT).
The realities of faux 'protest' and real protest were addressed when
Ann Garrison interviewed Riva Enteen (BAR)
:
AG:
Some March for Our Lives supporters are likely to get defensive and ask whether you're refusing to support
their cause. What would you say to them?
An Open Invitation:
Women's March on the Pentagon
UPDATED ENDORSER'S LIST:
CLICK HERE
***


UPCOMING LOCAL ORGANIZING MEETINGS FOR
THE MARCH
(CINDY WILL BE LEADING):
NATIONAL ORGANIZING CONFERENCE CALL
WED, MARCH 21 (COMPLETED)
CLICK HERE FOR SUMMARY AND RECORDING OF CALL
*


April 5th

in Washington DC
CLICK HERE FOR WDC MEETING INFO
*


April 9th

in Boston

*



April 12th

in Long Island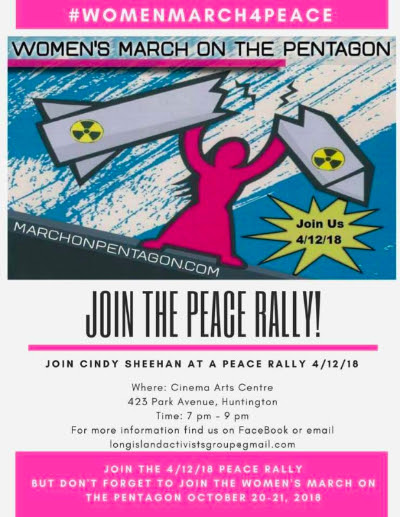 APRIL 13TH

: LANCASTER, PA
JUNE: CHICAGO, IL
contact Cindy Sheehan for
more info, to organize a meeting/action
in your area or ??
CindySheehan@MarchonPentagon.com
People are dying. Don't expect kids raised on media fawning to tell you that. Certainly don't expect the corporate media to tell you that. All the corporate media does is lie.
Things are great in Iraq!
If you forget the fact that people are protesting in the streets because there are so few jobs. Or that the medical situation in Iraq is actually worse now than at any point in the history of this wave of the Iraq War. The brain drain got a big kick in the last six months but no one bothers to notice that -- the flight of needed professional from Iraq. There are enough beds for the orphans but
Iraq did open a cat hotel
this year so I guess that's the 'great' that THE ECONOMIST sees taking place.
B-b-b-but ISIS is defeated! Except they are not.
ANADOLU AGENCY reports
that yesterday saw 5 Iraqi soldiers killed when ISIS ambushed them at "a fake checkpoint on the road linking Mosul and the Tal Afar district."
But the corporate press can't stop their waves of Operation Happy Talk. It's been going on for years now and it's never turned out to be true. Hayder al-ABadi, for example, has promised to get the trains running. When I saw that a few days ago, I rolled my eyes as I remembered when we were sold that lie -- in THE NEW YORK TIMES, among other places. The trains were working, running and doing great! It took Deborah Haynes (TIMES OF LONDON) to expose that as a lie. But here we are, about twelve years later and they're trying to re-sell that failed talking point.
The following community sites updated: