This is from Team Nader
:
Looking to Hire 30 Get Out the Vote Nader's Raiders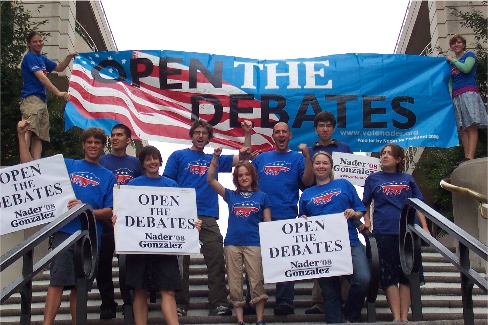 Good morning.
For every fundraising drive this year, we set the bar high.
And you exceeded all expectations.
Same for the most recent Get Out the Vote fundraiser.
We asked for $80,000 in a bit over a week.
And you blew past it – raising close to $90,000.
What can we say?
Thank you.
And thanks to your generosity, we are are now ready to hire more than 30 full-time field staff for the stretch drive to November 4th.
Six weeks of non-stop intensity to election day.
Here's the job offer.
We're looking for 30 full-time, dedicated Get Out the Vote field workers.
To tell the American people about the Nader/Gonzalez shift the power candidacy.
To encourage them to carefully consider our platform and record.
And to vote their hearts and minds, not their fears.
If you want to be one of the thirty Nader's Raiders field staff, let us know now.
Send your resume to christina@votenader.org (Link to her e-mail address)
Or call 202.471.5833 and ask to speak with Christina.
If you know someone who might want to join with us – forward this message to them.
If you can't afford the time to join our full-time staff, we definitely need you to volunteer as a precinct captain in our Get Out the Vote effort.
Also, check out our webstore. (link to webstore)
Everything there – signs, buttons, bumper stickers, t-shirts – is on sale between now and election day.
We need to create a high degree of visibility in every county and precinct in the country.
So go there now to get what you need.
Many Americans don't even know Nader/Gonzalez will be on the ballot on November 4th.
We must all start talking with our friends, neighbors, and relatives to convince them to vote for the candidate who has been right from day one on the economic crisis, the war, national health insurance, regulation, the corporate crime wave, and the oil crisis.
As I write this, our research team is working non-stop to target areas where Ralph did well in 2000 and 2004.
We will be focused on areas with high numbers of independents and where independents traditionally do well.
If you've been waiting to get involved with your state Get Out the Vote program, now is the time.
Soon, we will also be sending state by state e-mails to introduce our national field coordinators and to help you get organized in your community.
Thanks to your ongoing support, we are excited about the chances for a breakthrough this year.
You never know what will happen.
So, let's all hang tough.
And bust it over the next six weeks.
Together, we are making a difference.
Onward to November.
Jason Kafoury
National Campaign Coordinator
Okay, now we pick up with De Shawn's request and I'm sorry he's had to wait. Amy Goodman (Lousy Woman!). Goody was talking about the conservative Barack Waffles bullcrud and saying the drawing gave Barack "pop eyes." White Commie Amy doesn't know what the hell she's talking about.
I really am so damn sick of the Closet Communists trying to ride my race to 'soulful.' Never going to happen. But Red Goody was back at it today with a hack (he's a hack, C.I. recited a passage from a New York Times book review of the hack's book a few years back). Barack will lose because he's Black.
That's a hilarious conversation on Democracy Never! today -- three non-Blacks talking about a bi-racial man they call "Black" and swearing if he loses it is because he is "Black."
FISA cave? Does no one remember that?
It's the same campaign stunt but it's back. Donna Brazille was saying the same thing on CNN. She's not a Closet Communist, she's a Closeted Lesbian. Barackk hides behind "Black" and so many of his egg head followers hide something else.
Someone tell Amy Goodman that Black people don't love her. She really thinks we listen and think, "That Amy! She so good!" We listen and think, "How long is White girl going to use us?"
That's all she does. We're trotted out as victims for her to ride to a new level of fame. But I think people are catching on. Even though they try to work it as the tragedy of the year, her arrest isn't getting a lot of sympathy.
Don't you love when White people that reduce us to victims repeatedly want to 'raise awareness'? Here's a way Amy Goodman can raise awareness: Take her tired ass off the airwaves and let a person of color grab the spot.
She's as laughable as CounterSpin. They want you to believe each week that they care about race. They used to want (before Hillary ran for president) that they cared about sexism. So every week or so they trot out Janine Jackson. She's their two-fer. She's a woman and she's an African-American. So there are two men on the show and they're both White. No one's supposed to notice.
No one's every supposed to notice how few African-Americans or Latinos call the shots on any Pacifica radio show. We can be stories, we can be the occassional sidekick but you're never supposed to catch on to how many White voices you hear all the time.
Look at who the 'heroes' are. The 'elder' statesMEN. Start with two honestly wise people: Howard Zinn and Noam Chomsky. They earned their spot.
But do we really believe Norman Solomon did? Or does? Or Jeff Cohen? Sit there and make a list and you'll see all the experts are men over and over. From so-called 'alternative' media. How is that an alternative to anything? It's not.
Think about how many years Pacifica's been around and how little people of color get to call the shots.
A part of me thinks the Goodys like playing us for victims (and fools) is because it keeps us oppressed.
I'm not joking.
Let's get real damn honest here, Goody didn't give a s**t about the Jena Six. She only cared about Bell. That would be the one who pleaded guilty. The one they tried to turn into a saint. The one who admits he jumped another kid. A White kid so we're all supposed to make like idiot Laura Flanders and make jokes about it.
It was cute to watch Goody lie as the coverage got more intense. Apparently, we can come on guests to be pitied but we leave no impression which explains how a mother of one of the six could pour her heart out and Goody could pretend to listen but a few weeks later Goody's lies contradicted everything the mother said. I guess because she was Black, Goody didn't think she mattered?
We're all Sammy Davis Jr.'s Mr. Bojangles, dancing around for Goody's amusement. Or that's how she sees us anyway.
I'm not joking about any of this.
Her mission does not include us but she will gladly climb on our backs to get where she wants to go.
Jena 6 really made that clear. Bell entered his guilty plea and they barely covered that. They laid low and ignored the other five. Now that it's distant enough and they think no one remembers how they dropped Jena like a hot potato, they'll throw out references to it.
But you need to remember it was "6" and they dropped them all.
Here's C.I.'s "
Iraq snapshot
:"
We have two more Democrats to note. Other than Pete Ryan (Ranking Minority Member), Republicans elected to skip to the first panel.
The last Congress member to question Christoff was Marcy Kaptur. Pay close attention to his final answer to her. She's asking for very basic information, stats and figures (including arrests) and that information, according to Christoff, isn't public. It recalls his earlier comment to House Rep Tim Bishop who merely asked about the possible impact of the de-Baathifcation legislation (passed but not implemented) which resulted in Christoff informing Bishop that it was classified information he could not reveal in an open hearing. What are the possible effects of that legislation -- labeled a benchmark by the White House -- can't be made public. Now Bishop and Kaptur both have clearance. They can get the information as members of Congress. But what Christoff's testimony repeatedly underscored was how much information is being kept from the American people.
Again, Kaptur is asking for very basic information. She's not asking for information on how to build a weapon. Stats is all she's asking for and she's informed that the information isn't for the public. The operations Christoff is reporting on are paid for by the tax payer and the tax payer is repeatedly told that things are 'improving' in Iraq. So why is very basic information being kept from the tax payers. And if, dropping back to Bishop's question, the US anticipates that there will be some awful bloodbath as a result of the de-Baathification legislation, since the White House has labeled it a benchmark and since it has yet to be put into effect, shouldn't both the American people and the Iraqi people have a right to know the projections that have been made on that?
Ramos "pleaded guilty to conspiracy to murder and was sentenced to seven months in prison Thursday in the deaths of four Iraqis, saying he stood guard from a machine-gun turret while the bound and blindfolded prisoners were shot."
In some of today's reported violence . . .
Bombings?
Shootings?
Corpses?
Which candidate has the best record for consumer protection, standing up for small investors and taxpayers in America?
Which candidate has been warning us all along the way of the dangers of deregulating Wall Street?
Which candidate has a plan to get us out of this morass, restore accountability and transparency to Wall Street, and can actually be trusted to do what he says?
[. . .]