I'm going to start with
this from Team Nader
:
Statement to Ron Paul Supporters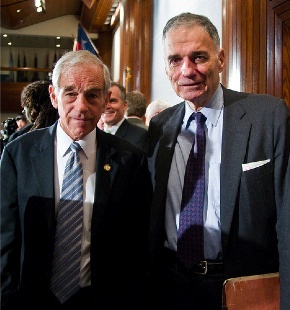 Today, along with other third party candidates, I joined Congressman Ron Paul to endorse a common agenda that stands up for the US Constitution by ending illegal wars, and protecting the privacy and civil liberties of all persons under US jurisdiction. We also jointly called for an immediate halt to the increase in the national debt, an end to corporate subsidies and taxpayer bailouts of corporations, and to start aggressively pursuing prosecution of corporations that commit crimes and frauds.

Both Congressman Paul and I also support holding President Bush and Dick Cheney to account for their transgressions against our Constitution.

Today's coming together of third party candidates marks the beginning of the realignment of American politics.

While Congressman Paul and I do not agree on all things -- such as health and safety regulations and health insurance systems and how to handle areas where the market fails or is not up to the task of getting the best outcomes for the American people -- on the overriding foreign policy, reckless waste financed by deficit spending, and civil liberties issues of the day, we stand together. He is a stalwart who has consistently stood up for what he believes in and never wavered when he is opposed by the legions of commercial interests and lobbyists that swarm the Capitol.

Congressman Paul said today, "the strongest message can be sent by rejecting the two-party system, which in reality is a one-party system with no possible chance for the changes to occur which are necessary to solve our economic and foreign policy problems." He also called on his supporters to vote for Nader/Gonzalez or one of the other non-establishment, principled candidates, who support the joint statement issued today.

For all the millions of people who have broken free from the establishment parties' domination over our dwindling democracy, Nader/Gonzalez presents a clear choice for those who want to support a candidate who will stand up against the war and stand up for personal liberties and privacy that have been trampled on by the notorious, misnamed, PATRIOT Act, the FISA 'snoop' Bill, and the unilateral dictates of the Bush/Cheney regime.

Some unfairly paint the Nader/Gonzalez candidacy as being for big government. Nothing could be more untrue.
Nader/Gonzalez supports a government of the people, by the people, for the people. We agree with Congressman Paul that government is rife with waste and corporate demands, and needs to be scaled back in many areas -- most of all the bloated, wasteful US military budget, which is half of the government's total operating budget.

We are also against big government doling out hundreds of billions in corporate welfare, subsidies, and bailouts to companies.

We support abolishing income tax on the first $50,000 of income to be made up with a fraction of a percent Wall Street speculation tax, especially on derivatives.


Click here to listen to Ralph's remarks at today's press conference.

And other than that, what I really wanted to write about was . . . Jeremiah Wright.
On "Gossip to Go" (with Flo) today, she was all over the story about the 'rev' and his latest trashy ways.
Remember when he went away for a little bit (after his "G** damn America" tape surfaced). He showed up on this little publicity tour (which included being applauded by the NAACP). And he was in Texas and people were saying, "Oh, he's really a good man."
No, Honkeys, you never got it.
Believe it or not, I made it my whole life without every using the word "Honkey." When did I start using it? During the Democratic Party primaries when a bunch of White people who were not Democrats kept insisting how wonderful Wright was.
I warned you. I told you he was out of control. I told you about how 'rev's like that end up having affairs. And during his whole "I'm back!" tour, he was traveling with his young chippie (who was White, FYI).
Now he got his second wife when she and her husband came to him (they were members of the church) for marital counseling. Well, as En Vogue might say, whatta man, whatta man, whatta man. Wright counseled his way into her bed and married her.
That was your first sign that the man was a low life hiding behind the cloth.
But the woman he was just sleeping with is suing him. She lost her job, she lost her marriage.
Yeah, he was sleeping with another married woman.
Jeremiah Wright who was thrusting his hips in church to mock Bill Clinton.
Hey, Honkeys, I warned you.
I told you that IS NOT how things go in a Black church unless the leader is seriously out of control.
But all you little Closet Communists and Socialist and a few Greens just knew everything. Didn't matter that you weren't Church people let alone Black Church people.
You made your excuses for him, you offered these deviant (and racist) excuses for him.
And the whole time the 'rev' was cheating on his wife with a church employee who he knew was married.
Maybe next time, you'll shut the f**k up? Maybe next time, you'll stop in your lustful trashing of Hillary to grasp that you don't know a DAMN THING.
But didn't you all write your sweet little posts and columns to Wright?
You're a joke, and you made yourself one.
That's all I wanted to say tonight.
Here's C.I.'s "
Iraq snapshot
:"
Turning to some of today's reported violence . . .
Bombings?
Shootings?
Back to the race for the US presidency. War Hawk Barack Obama's in trouble for doing something so it was time for all his lovers in the press to come out in full force and defend their Christ-child.
Here's what he said.
Sexism isn't a real problem to Barack Obama. It's an annoyance for him to have to address sexism. He's laughing in the video. He finds it all so funny. (I find his attempt to grow a mustache hilarious. That's day two by the way.) "This is what they want to talk about," insists Barack. And talking about it means he's not able to address "the issues that matter to you." Barack, you sad PIG, sexism matters to me and to many. It's not a "diversion" or a "distraction" (his words), it is a very real issue.
When Palin entered the race and made her "lipstick" line, the game changed. If Hillary had been the Democratic nominee and had chosen Joe Biden for her running mate, John McCain could declare that they were negative and refer to their "dark vision" for America's future. With Barack as the nominee, his use of that term would be called out immediately. With Barack in the race, the game changes. It's the same thing with Sarah Palin being in the race. Barack's remarks yesterday were pre-pared as evidenced by the fact that he stole a huge chunk from a cartoon. If he and his team are too stupid to grasp how those remarks would play, that's their own damn fault. He should have apologized.
My colleague Sally Quinn put it most provocatively. "Is she prepared for the all-consuming nature of the job?" Quinn wondered. "When the phone rings at three in the morning and one of her children is really sick, what choice will she make?"