Starting with
this from Team Nader
:
Wise Guys, Shock and Awe, and the Great Depression Sequel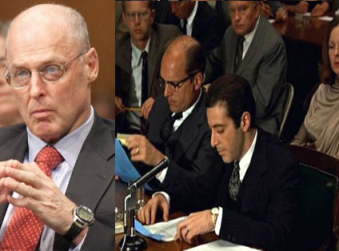 The top of the news is still dominated by fears of Great Depression II. No mention of hope fever, field stripping moose, or lipstick.
I'm sure that the Democratic and Republican presidential candidates are tirelessly working behind the scenes to insure a better deal for voters. Yet, from the ghost-like details of their bailout and accountability plan, it seems more like they are in the Federal Witness Protection Program.
To be fair, there was a little item reporting that Senator Obama thought the bailout needed a more "muscular regulatory" component. A cool observation. John McCain has gotten deregulation religion, and he is angry -- angry, my friends, demanding a 9.11-type commission to get to the bottom of this, dammit.
Sneaking a glimpse of Treasury Secretary Henry Paulson -- heralded as "King Henry" on the cover of Newsweek -- testifying before the Senate reminded me of Godfather II. But this time, it is not Michael Corleone at the table.
The new wise guys of Wall Street have brought their remorseless schemes from the corporate syndicates to Washington –the taxpayers -- for a $700 billion bailout, which some predict will likely balloon to $ 1 trillion.
It's kind of like when things get tight and the wise guys need more money. There is no real fretting, they just shake down the neighborhood -- customers, neighborhood businesses, ordinary citizens, and everything is fine. Like in Good Fellas, "Just pay me!" Hauntingly similar to William Greider, writing in The Nation, predicting that this bailout will be one the great swindles in American history. Something you can tell your grandchildren about.
To switch analogies, the media atmosphere driven by the Bush Administration is starting to feel like a 9.11 moment, complete with CNN alerts (minus the flags) that bipartisan and passive compliance with its dictums is urgent to save the nation from catastrophic collapse. No time for annoying questions about the fine print, executive accountability, and certainly don't bring up that little quaint document called the Constitution.
Senator Mitch McConnell bravely warned the skeptics on Capitol Hill, "When there's a fire in your kitchen threatening to burn down your home, you don't want someone stopping the firefighters on the way and demanding they hand out smoke detectors first or lecturing you about the hazards of keeping paint in the basement." The good senator from Kentucky is a great one with metaphors, but rather than firefighters I think arsonists would be a better one to suit this burning house. Still, there is a "shock and awe" feel to King Henry's media campaign to save Wall Street -- sorry, I meant the nation.
President Bush is looking a bit befuddled these days. Always the courageous and mighty cheerleader, however, he is at his best with the much-rehearsed line about "protecting the American people," a kind of template for media consumption. But, no questions please, time is of the essence. Foot-dragging is un-American and a danger to national economic security. To beat back the quarrelsome skeptics, all we need now is a Power Point presentation from Colin Powell. This time in the U.S. Senate rather than the UN.
Re-tool the message from WMD to GFM -- "Global Financial Meltdown." Instead of "invade," they could just use "give us all the money we want from taxpayers with no questions asked, no strings attached. Now."
Powell could even hold up a little vial and announce that is all of the money left in the U.S. unless we fork over the bailout.
Mercifully, we have not heard Bush bellowing warnings about mushroom clouds. The problem with the boy crying wolf is that when there really was a wolf, no one believed him. As for the Wall Street wise guys, we should have heeded the warning that if we didn't fight them there, they would just follow us to Washington and we would have to fight them here. That is the fierce urgency of now.

Charles Fulwood
The Nader Team

In the snapshot today, C.I. notes Barack's latest homophobia. Proposition 8 seeks to overturn the rights of gays and lesbians to marry in California.
Jesse McKinley's "
Same-Sex Marriage Ban Is Tied to Obama Factor
" (
New York Times
)ran earlier this week and it documented how the Cult of Barack in California could help overturn Proposition 8:
The black community has long had a conflicted relationship with gay men and lesbians, Mr. Buckmire said, equal parts homophobia and denial.
"For too long, black people seemed to think there were no gay people around, especially black ministers," Mr. Buckmire said. "They'd say the most insanely anti-gay things, and then the choir would come up and the choir is 50 percent gay."
Still, the tendency of black voters to oppose gay marriage extends beyond religion. Patrick J. Egan, an assistant professor of politics at New York University who has studied black voting patterns on same-sex marriage, said black voters consistently polled much lower than white voters on approval for same-sex marriage, about 16 percentage points, even when religion was not a factor.
Yes, they would and they have never been called out by our so-called 'left.' In fact, Amy Goodman was perfectly comfortable airing Bernice King's homophobic sermon on Democracy Now! which is why you should never trust the bulk of the White 'left.' They don't stand up for the rights of anyone. Bernice King's African-American (MLK's daughter) and no Amy Goodman has the guts to call her out. That not only hurts me, it hurts all gays and lesbians.
I'm so damn sick of the Closeted Communist Left and their worship of the Black community. I'm so damn sick of it. Julian Bond skipped Coretta Scott King's funeral over homophobia but Closet Commie Goody didn't want to go there, now did she?
From Dyana Bagby's "
NAACP leader cites homophobia, skips King funeral
:"
But distinguished civil rights leader Julian Bond, chair of the NAACP and professor of history at the University of Virginia, chose not to attend King's funeral. Bond cited New Birth Bishop Eddie Long's homophobia as well as his "prosperity theology"--a philosophy Bond said was antithetical to the Kings' work helping the less fortunate.
Bond told his "History of the Civil Rights Movement" class Feb. 7 that he felt Mrs. King would oppose Long's views.
"Long's homophobia is well known--even if Mrs. King's strong and repeated support for gay and lesbian rights wasn't," Bond said in an e-mail interview. "She may not have had a choice about where and by whom she was funeralized--but I had a choice about whether staying away would honor her more than my presence
would--and I made that choice," he said.
King family split on gay rights
Long, along with Rev. Bernice King, the Kings' youngest daughter and a member of New Birth, organized a "Reigniting the Legacy" march in Atlanta on Dec. 11, 2004. The march called for, among other things, the "protection of marriage," including "strategic policy direction for a constitutional amendment to fully protect marriage between one man and one woman."
Coretta Scott King was a vocal supporter of gay marriage and publicly spoke out against a proposed federal constitutional amendment to ban same-sex couples from marrying.
I wanted to include the part on Coretta Scott King in case anyone wasn't aware of where she stood. Mrs. King was a believer in justice for all. And that didn't get put on hold just because her daughter Bernice is an ass. From Dyana Bagby's "
Anti-gay protesters target King funeral, Speakers cite civil rights icon's support for gay equality
" (
Southern Voice
):
Her stand on gay marriage put her at odds with one of her daughters, Rev. Bernice King, an elder at New Birth Missionary Baptist Church, where the funeral service was held. In December 2004, Bernice King and Bishop Eddie Long, pastor of New Birth, led a massive march through Atlanta calling on black churches to be more visible on several social issues, including opposing same-sex marriage.
Now if you're confused on the homophobia Bernice King supports, this is from Erica Edwards' "
The Aesthetics of Charisma in the New 'King'dom; Or, Tomb-Raiding and the Legacy of Civil Rights
" (
NewBlackMan
):
The march's goal was reportedly to "get back into the conversation of the nation," to introduce black Christians as vocal participants in the national discourse on marriage and sexuality. Quoting King's warning against the "appalling silence of good people," the march's publicity describes its goal as the "protection of marriage," including "strategic policy direction for a constitutional amendment to fully protect marriage between one man and one woman." The march being framed, ironically enough, as a coming out story, participants in news photographs wear shirts reading "Stop the Silence" and the event is touted in news stories as an opportunity to speak in "one voice," to articulate "a unified vision of righteousness and justice." In a moment less than a month after voters in 11 U.S. states, including Georgia, approved of state constitutional bans on same-sex marriage and in a state that had passed a Defense of Marriage Act nine years prior to the march, the march's leader, ostensibly alarmed by the suppression of anti-homosexual sentiment, told reporters, "This is our coming out day. We are here to stay and will be heard." Passing a counter-demonstration of 50 gay rights activists, the march proceeded from the King Center to Turner field, where a recorded speech by Bishop Long played over the loudspeakers to greet the marchers entering the stadium. In her introduction to Long, Bernice King said, "I believe this day will go down in the history books as the greatest showing of Christ and his kingdom in this century" and designated Long "the prophet appointed by God to speak the mind, heart, and gospel of God."
The march's primary message was a call to crystallize rigid categories of sexual and gender identity, to buttress conservative family values in the name of historical 'legacy' and civil rights. As a literary critic, I'm as concerned with the form of the march--its architecture--as I am with its content or message. I'd like to draw our attention to the aesthetics of this religious, political event, that is, to the various symbolic ingredients that produce the performance of charismatic authority. To raise the question of the aesthetic is to ask: What makes a thing good, true and beautiful; what makes it appeal to the senses? Charismatic authority is, at its heart, is a question of aesthetic value: Ann Ruth Willner's extensive research on the subject suggests that "it is not what the leader is but what people see the leader as that counts in generating the charismatic relationship" (Willner 15). Charisma is constituted by a cycle or dynamic of perception and performance, a relay of symbols between leaders, followers, and observers.

Despite being a public homophobe campaigning to destroy the rights of the LGBT community, Amy Goodman has frequently featured Bernice King on her program. In 2006, I e-mailed C.I. to ask that Bernice not be highlighted (back when Democracy Now! got highlighted all the time). C.I. e-mailed back, "No problem, she's a homophobe." I wasn't surprised C.I. knew that but if C.I. knew, shouldn't have Amy Goodman? The truth is Goody knew, she just didn't give a damn.
Now it's not bad enough that Goody's had a homophobe on her show (repeatedly) and looked the other way, she's also broadcast homophobia. February 8, 2006, she decided to play Bernice King's 'eulogy' to her mother. It wasn't an eugoly to Coretta Scott King, it was Bernice pushing her conservative hatred. And Goody, who wouldn't dare play that bulls**t spoken by a White, was more than happy to play it. Bernice thundered in that dykey way (ask any Black lesbian, we'll tell you, Bernice King? Dyke) she built up to this little bit:
See what God is saying to us today through the transition of Coretta Scott King is that we, here in this world right now, are suffering from complications, of cancer from materialism and greed and selfishness and arrogance, and elitism, and poverty, and racism, and perversion, and obscenity, and misogyny, and idolatry, and militarism, and violence, and it is a cancer that's eating away at the very essence and nation of what God created of human kind to be-–for he created us!

"Perversion." Now what did Goody think Bernice was saying?
Or was Goody too busy screaming "Tell it, Sister Bernice, tell it!" while she fingered herself in the pew?
Is that it Amy? Were you fingering yourself while Bernice was talking homophobia? Is that why you broadcast it on your show. As awful as it was, Goody broadcast an extended version of it on WBAI during her fundraising time.
A homophobe wants to rail against "perversions" and Goody wants to pretend like she can't figure out what Bernice is talking about?
Why was Pacifica broadcasting a homophobe spewing homophobia? Cause a lot of Whites are full of bulls**t and look the other way. A lot, not all.
You either call out homophobia across the board -- with no passes to the "soulful" -- or you don't.
Ask yourself why Jeremaih Wright has been praised by so many Whites allegedly on the left like Amy Goodman, Sharon Smith, the whole crew at The Socialist Worker, Edward S. Herman? Why was it that only
Ava and C.I. could call it like it was
? For those not paying attention and just raving over Bill Moyers' interview with Wright, the homophobia just sailed over their heads. Ava and C.I. heard it and called it out. Even all this time later, Herman's trying to gin up support on the left for a homophobe. Kimbery Wilder made excuses and offered defenses for a homophobe -- despite the fact that her party (Green) is allegedly opposed to homophobia. It takes real guts to stand up and call out homophobia across the board. Most don't have the guts.
Jeremiah Wright declared on PBS that sodomy was the same as murder and assorted other things and somehow, with all the millions watching, only Ava and C.I. thought to call it out. Bill Moyers didn't even call it out. He just grinned at it and apparently approved. Thanks Bill Moyers, thanks PBS.
Barack used homophobia to sew up the African-American vote in South Carolina. He didn't have them. He was willing to do anything to get them so he put homophobes on stage at a campaign event. Now he's back to using homophobia. Douglas Kmiec is a Barack supporter and someone wanting to overturn same-sex marriage in California. He will be on Barack's "Faith, Family and Values" tour. A known homophobe. And he's not getting called out. That's how it goes when you avoid calling out homophobia in the primaries. You shut your mouth during the general election as well. And guess what, it's now okay for every Democrat running in future races to use homophobia because Barack did and he got away with it.
Thank you Amy Goodman, self-loathing lesbian Laura Flanders, Bill Moyers, Matthew Rothschild and all the other goons in Barack's Cult.
Here's C.I.'s "
Iraq snapshot
:"
Thursday, September 25, 2008. Chaos and violence continue, the US military announces another death, more on what the Iraqi Parliament passed, the KRG wants a federation and not a nation, and more.
Staying with the State Dept but unrelated to Iraq, today US Secretary of State Condi Rice spoke at the Women Leaders Working Group, which met in NYC, and her speech included the following:
Turning to some of today's reported violence . . .
Bombings?
Shootings?
Corpses?