The New Adventures of Old Christine
airs tomorrow (Weds) on CBS during the first half-hour of prime time. Remember to watch. If you can't think of a reason to watch, you've obviously never watched the show. In which case, I strongly recommend you read "
The New Adventures of Old Christine
" (
Third Estate Sunday Review
).
Last week was especially hilarious. Barb was interviewed by a freebie newspaper/magazine geared towards African-American women and the gym she and Christine run went Black. It explored a lot of topics you don't see on TV these days. Back in the seventies, those really good sitcoms you used to catch on TV Land could do that. These days, it's all dumbed down. Except on this show. So make a point to watch it. You are really cheating yourself if you don't.
And it is one of the few shows starring a woman. So do it for the sisterhood as well.
Hilarious show and one of the few with a woman in the lead (Julia) and with an African-American in the cast (Wanda). And Barb (Wanda) is not a shrinking violet. She speaks her mind and holds her own.
Okay, let's turn to the election. First up, the candidate I'm supporting.
From Team Nader
:
Dear Donna: A Letter to the AP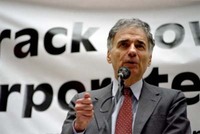 Dear Donna,

While local AP bureaus have done an excellent job in many states covering the Nader/Gonzalez campaign, we have noticed what can only be described as a 'lights out' policy from AP's Washington, DC national political desk.

After waiting six months for a national AP news story, we get a third party story that is really about Barr ("Bailout angst provides a push for Libertarian Barr.")

You couldn't even dedicate resources inside AP to research our campaign and write up the story, though given the present state of repair, Mr Runyan was probably less biased than what you would have offered from in house.

We are running third place, polling 100% higher than Barr according to Ipsos, have been warning on the financial crisis for two decades, and have a thoughtful alternative proposal to the bailout that would work for Americans. Nader is also polling 4-8 per cent in six swing states and has raised almost $4 million dollars—about four times as much as Barr.

And for that, we get a squib marginalized by a headline.

The AP's treatment of this campaign to date will go down in history as a blight on your professionalism--allowing personal animosity to black out your role of informing people of the important things that are happening. Your sports writers did a considerably better job in Beijing than your politics desk is doing this election in Washington, DC. There were ample reports about Americans who won bronze medals, coming in third place, exactly where Nader is sitting right now. To add insult to injury, the Olympics is only 2.5 weeks, and we have been in this contest for over six months. When did it become the role of the press to only write about winning candidates, winning corporations, and winning sports teams, completely blacking out everything else no matter how thoughtful, interesting, or relevant to the discourse and development of the nation?

It is simply unbelievable that you have done nothing on Nader's bailout plan.

As the most relied upon news organization for print media in the world, one would expect a shred of professionalism for the third-highest ranked Presidential candidate.

Every day, we hear from people that say they did not even know Nader was running. When he pulls in more than a million votes on November 4th, and many more people see his name on the ballot for the first time in print (as his name will be before roughly twice as many voters this time), they will wonder what in the heck the news media was doing for them to have not yet heard he was running. One national story all campaign does not a newswire make.

I hope you take the opportunity to return to your proud traditions which are quickly turning into receding laurels.

As the government continues to do a new multi-billion dollar bailout each week, the least you could do is a story on Nader's alternative plan to the bailouts. See below a release detailing it.

http://www.votenader.org/media/2008/09/16/meltdown/

Not a happy camper,

Toby Heaps
National Media Coordinator
202 471 5833


Feel free to reach out to Donna, and ask why she hasn't done one national story on us since launch, a story on the bailout, and Nader's alternative plan, dcassata@ap.org , 202-641-9421
If Donna is not responsive, try the Washington Bureau chief, Ron Fournier, rfornier@ap.org, 202-641-9402

The one thing I would really like to see is a post telling all of us Nader supporters to e-mail Bill Moyers to get Ralph on the show. I doubt it would work because Bill Moyers has been in the tank for Barack since the primaries. But maybe we could toss his words back at him about how important PBS is and how it shows what the networks won't and all his blah-blah-blah and it would shame him into inviting Ralph on.
I really don't care for Bill Moyers. Like a lot of community members, that speech a while back at a media conference where he decided to talk 'Black' (or rather 'slave') really rubbed me the wrong way. But watching his crap this year and how he has no perspective and is just completely biased has been a wake up call. When he was in trouble with that PBS or CPB head awhile back, I felt sorry for him but I'd argue that in 2008 he's demonstrated why his show does need to be monitored.
As I've noted here before, I don't care for ACORN. In my opinion, they make too many mistakes too often. Either they're inept or they are crooked. And that's before you get into the fact that nearly one million dollars was embezzled this decade by one man and they refused to bring charges. I think they're a racket. So I have no problem highlighting
this from the McCain-Palin campaign
:
Statement On ACORN's Letter
ARLINGTON, VA -- Today, McCain-Palin 2008 campaign manager Rick Davis released the following statement in response to ACORN's letter: "Almost a month ago, the McCain-Palin campaign reached out to Barack Obama's campaign, the Democratic National Committee and state election officials in an effort to cooperate on potential Election Day problems, including voter fraud. To date, we have not received a response. Today, our campaign's Honest and Open Election Committee, chaired by former Senators John Danforth and Warren Rudman, re-proposed that invitation in an event at the National Press Club. Given the extensive relationship between Barack Obama and ACORN, our campaign also feels that Senator Obama has a responsibility to rein in ACORN's efforts and to work aggressively against wide-scale voter fraud. In addition, Senator McCain has reached out to Rep. John Conyers, Chairman of the Judiciary Committee, to reject reports on voter challenges based on home-foreclosures. "If left uncorrected, these numerous investigations and accusations of voter fraud with ACORN could produce a nightmare scenario on Election Day. It is our hope that the Obama campaign joins us in our efforts to prevent voter fraud prior to Election Day." Below please find links to the McCain campaign's multiple attempts to resolve the voter fraud situation:

Sen. John McCain's letter to Rep. John Conyers, Chairman of the Judiciary Committee
Sens. John Danforth and Warren Rudman's letter to Rep. Conyers
Sens. Danforth and Rudman's letter to Obama Campaign Manager David Plouffe
Sens. Danforth and Rudman's letter to DNC Chairman Howard Dean
And this is from Laura Strickler's "
Does Voter Fraud From This ACORN Grow?
" (CBS News):
As questions about fraudulent voter registrations at ACORN offices grow nationwide, the organization today defended its efforts to sign up 1.3 million people, a record number of new voters for the upcoming presidential election. CBS News Chief Investigative Correspondent, Armen Keteyian reported on the growing allegations
last week
. "That there can be errors in the process we freely admit that, but we are fiercely patriotic. The voter franchise was bought in blood," said Reverend Gloria Swierenga, director of Maryland ACORN, invoking the names of civil rights workers who died for voting rights in the 1960's. ACORN officials say after they collect new voter registrations they verify them and then red flag any suspicious applications before they turn them over to election officials across the country. They say they are bound by law not to throw the applications away no matter how absurd the applicants, be they Mickey Mouse or the names of Dallas Cowboy football players. One former election official who spoke on behalf of ACORN said it would be highly inappropriate for outside organizations to judge the validity of voter applications. But when asked what percentage of the 1.3 million registrations were red flagged, the organization did not know. Kevin Whelan, one of the ACORN employees who runs the voter registration program said he would follow up later with a response, "You know I don't want to give a number that I can't back up, I will get the most exact information to date...it's a very small minority." Later Whelan followed up to say that ACORN believes the error rate is less than 1%.
Whether they are a racket or not, it doesn't smell right and it's time for Congress to stop funding ACORN. When they allow one employee to embezzle nearly a million dollars (as the New York Times reported last month) and they refuse to bring charges, then it's time to close shop. They've done enough damage and tax payers shouldn't support them.
I'm brief tonight because I log in and see Blogger/Blogspot is "scheduled" to go down. I didn't see that "scheduled" last night. But I've got like two minutes to finish this up. Here's C.I.'s "
Iraq snapshot
:"
Tuesday, October 14, 2008. Chaos and violence continue, the United Nations' High Commissioner for Refugees issues a call, the US military announces another death, and more.
Bombings?
Shootings?
Corpses?
iraq
mcclatchy newspapers
leila fadel
the los angeles times
ned parker
the washington post
karen deyoung
the new york times
campbell robertson
the times of london
deborah haynes
corinne reilly
mary beth sheridan
tim albone
elizabeth ferris
basil adas