I have no idea why that's so large and attempts to reduce it do not work. But don't you love Isaiah's comics? I love his comics so much. When Isaiah became
The Common Ills
cartoonist, no site had one. Now some try to have 'one' via computer drawings (that they didn't sketch) which they add captions to. That's not really a political cartoon, but keep kidding yourselves, boys and girls, with your "Cathy" like strips that have nothing to do with politics. A politcal cartoon has to do something more than have a face and a balloon full of words. Isaiah teams up Barack's greed with stripping. You won't get that by choosing some pre-drawn computer tamplate to add your captions to.
Okay, let me move on to
Team Nader
:
Galluping Through the Spin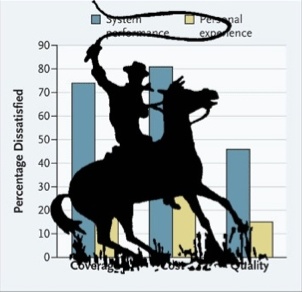 Small Victory--Congratulations.

Gallup's spin is, "We include Nader's name, but the media exclude him." Nice try Gallup. That's 50.5% true. Big media excludes Nader. But over 99.5% of the people Gallup poll never hear the name Nader--or any of the other third party candidates for that matter.
Gallup had been asking: McCain, Obama, Neither, or Other. Less than 0.5% say "other," compared to 3-5% who say 'Nader' when his name is included in the main question.
Last week, we asked you, our supporters, to contact Gallup to ask why they were not including us in their poll question.

Hundreds of you called Gallup directly.

Gallup listened to you. They had Nader and the other third Party candidates listed by name in their poll out this week.

Support for third party candidates explicitly named, increased tenfold over Gallup's previous methodology employed in their daily polls, which had third party candidates registering less than half a percent combined vote.
Onward!
Toby Heaps
The Nader Team

2008 is going to be a close election and I don't know who is going to win but I don't think the polls are correct. I think there are a lot of people doing what my mother is -- saying "Barack" just to avoid the hassle. (Or maybe they're worried about how it will look?) They only poll what, 800 or 900 people, so how many people in America is my mother representing? It's in the millions.
I do think Ralph has a real chance. And I think he will be a strong candidate. I think this will be his best year. And if enough of us have the guts to stand up and do what's right, it will no longer be "Ralph Nader, consumer advocate," it will be President Ralph Nader.
I think that's possible. I think it's very possible. I do not target Cynthia voters at work. If they're voting for Cynthia McKinney, I'm thrilled. I was in an office that was all Barack. It was only when I was out on the road campaigning for Hillary that this started to change. My office is primarily African-American. No one, repeat no one, is voting for Barack now. Those who are not voting, I will talk up Ralph too. And there are now ten voters for Ralph. I never insult Cynthia or steer anyone from her. Cynthia McKinney is a worthy candidate and if someone has the guts to break with the two-party system, I am happy just for that.
And I will give credit to C.I. for that. There's never been a need to trash Cynthia from C.I. And if something even might be construed as that in an editorial we're doing, C.I. will say, "Wait, wait! Let's word that better."
I also have people in my office (yes, African-Americans) who are voting for McCain.
I don't think Barack grasps how he has pissed off some African-Americans. The attacks on fathers has not helped him. That is probably the most often cited reason for African-American males in my office for turning against him. The broken promise on FISA and public financing didn't help but the tide especially turned when he attacked African-American fathers. I also think my boss was talking while on was the road. In my office, it was "Hillary is a racist!" and just feeding off those false charges that all of the Barack surrogates kept pushing (with his permission). Because I was supporting Hillary, it was hard to repeat those without question and I think my boss had several conversations at work while I was on the road because when I came back (after the Puerto Rico primary), the office would point out it out every time Barack tried to play the race card.
So those are my election thoughts.
And I do not forget our Oklahoma community members.
This is from the McCain-Palin campaign
:
Statement by John McCain on General Motors Plant Closings

ARLINGTON, VA -- McCain-Palin 2008 today released the following statement by John McCain on reports of pending General Motors plant closings:

"I'm disappointed to hear of the upcoming General Motors plant closings. Hardworking people are paying the price because our country's leaders have put Washington corruption and Wall Street greed before Main Street's interests for too long. Change is coming. I know families across America are hurting and as president, I will lead members of both parties in a fight to keep and create good jobs in communities across the country. Now is not a time for words and platitudes. Now is a time for action. That is why I supported auto industry loan guarantees and will continue to work to create opportunities for American auto companies to build the car of the 21st century and put Americans back to work."
I may not always have time to note the McCain campaign. There are sometimes when I don't even have time to note Nader's campaign. But when I have time, I will note the McCain-Palin campaign. Oklahoma community members can vote for either Barack or John or just not vote. Those are their only choices. They made the decision to endorse McCain and I support them.
(This issue is discussed in Third's "
Roundtable
.")
Here's C.I.'s "
Iraq snapshot
:"
Monday, October 13, 2008. Chaos and violence continue, the US military announces a death and Iraqi Christians continue to be targeted.
iraq
the new york times
alissa j. rubin
stephen farrell
sam dagher
patrick cockburn
the los angeles times
ned parker
mohammed tawfeeq
basil adas