Well the debate last night. Didn't watch, didn't miss anything. I read the transcript. More importantly, I read
this from Team Nader
:
Nader v. Obama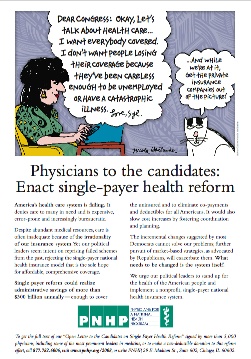 Donate $3 to Nader/Gonzalez now.

Why?
Well, on three key issues last night — energy, health insurance, corporate crime — Obama stood with the corporations against the interests of the American people.
Compare Nader to Obama.
Last night, McCain challenged Obama.
Tell me one time you have stood up to the leaders of your party, McCain said.
Obama couldn't name one time when he stood up to the corporations that control his party.
So, instead he named a couple of times when he stood with the corporations.
And against the interests of the American people.
I voted for tort reform, Obama said.
Wow!
Brave of you Barack.
You stood with the National Association of Manufacturers against injured people.
I support clean coal technology, Obama said.
Wow Barack, you stood with the polluting coal industry against people who suffer the consequences.
When McCain accused Obama of supporting a single payer, Canadian style national health insurance system, Obama said he didn't.
And he doesn't.
Despite the fact that a majority of doctors, nurses and the American people want it.
On national health insurance, Obama stands with the insurance industry and against the American people who are demanding single payer.
Over 5,000 U.S. physicians have signed an open letter calling on the candidates for president and Congress "to stand up for the health of the American people and implement a nonprofit, single-payer national health insurance system." (Here's the ad that ran in the New Yorker magazine.)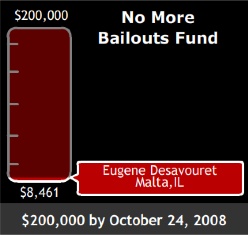 Obama says no.
McCain says no.
Nader/Gonzalez says yes.
Yes to single payer.
Yes to solar and no to coal.
Yes to protecting the American people from corporate recklessness and crime, no to tort deform.
So, donate $3 to the candidacy that is not on the debate stage.

But that is right on the issues.
Nader/Gonzalez.
Today, while Obama fronts for his corporate donors, Ralph Nader, Matt Gonzalez and the Nader Team will be on Wall Street protesting corporate America's sustained orgy of excess and reckless behavior.
Nader/Gonzalez continues to stand with the people.
Against the corporate criminals and their candidates in the two major parties.

Onward to November.
The Nader Team

PS: If you donate $100 more now, we will ship to you our corporate crime package. The package includes two books and a DVD: Gangster Capitalism by Michael Woodiwiss, The Cheating of America by Charles Lewis, Bill Allison and the Center for Public Integrity, and a DVD that we are making of today's rally on Wall Street. (This offer ends October 24, 2008 at 11:59 p.m.)
My parents and both sets of grandparents say John McCain won the debate. I didn't watch but (a) I trust their judgment and (b) the transcript I read indicates that as well. No surprise.
I'm so tempted to run with a point C.I. made in the snapshot but I can hear Jim already fuming that C.I. tossed it out in the snapshot. (I'm laughing.) So let me look around and see if I can find something else to cover.
Okay, ACORN. Stephanie Strom (who has a history of truth telling that everyone tends to pretend like didn't happen) has another story on ACORN in today's
New York Times
, "
Acorn Working on Deal to Sever Ties With Founder
:"
Even as it battles charges of fraudulent voter registration practices in several states, the Association of Community Organizations for Reform Now, or Acorn, is negotiating to sever all ties with its founder, whose brother embezzled almost $1 million from the group.
Two board members and Bertha Lewis, the organization's interim chief organizer, or chief executive, met last week in New Orleans to hammer out a deal with the founder, Wade Rathke, according to board members who learned Tuesday of the talks. Mr. Rathke resigned as chief organizer after it became public this summer that his brother Dale had embezzled almost $1 million from the organization eight years ago.
Mr. Rathke retained control of Acorn International, however, and maintained its offices in buildings in New Orleans shared by Acorn and many of its 174 affiliates. Foundations that support Acorn financially, as well as many of the 51 voting members of its board, have been critical of that arrangement, saying it allows Mr. Rathke to retain his influence over the organization.
Now let's drop back to July 9th for Strom's earlier article "
Funds Misappropriated at 2 Nonprofit Groups
:"
Acorn chose to treat the embezzlement of nearly $1 million eight years ago as an internal matter and did not even notify its board. After Points of Light noticed financial irregularities in early June, it took less than a month for management to alert federal prosecutors, although group officials say they have no clear idea yet what the financial impact may be.
A whistle-blower forced Acorn to disclose the embezzlement, which involved the brother of the organization's founder, Wade Rathke.
The brother, Dale Rathke, embezzled nearly $1 million from Acorn and affiliated charitable organizations in 1999 and 2000, Acorn officials said, but a small group of executives decided to keep the information from almost all of the group's board members and not to alert law enforcement.
Dale Rathke remained on Acorn's payroll until a month ago, when disclosure of his theft by foundations and other donors forced the organization to dismiss him.
Dale Rathke stole $948,607.50. Imagine if that were United Way or the Red Cross and the person didn't go to jail? Rick Cohen, writing in July, offered "
ACORN's Dilemma and Ours
" and compared Dale Rathke's crimes to those of Triantafilitsa Mattfeld:
Both were caught embezzling money from their nonprofit organizations, Mattfeld $180,000 from the Navy Elementary School PTA in Fairfax County, Virginia, Rathke exactly $948,607.50 while he was handling the books for ACORN, the nation's premier community-based organizing and advocacy network founded by his brother Wade Rathke who also served until June as ACORN's Chief Organizer.
[. . .]
The differences are more than how much they pilfered and how much they or their families and supporters are pledged to repay.
Characterized in court as "morbidly obese," dependent on a breathing machine, and suffering from heart problems and chronic asthma, Mattfeld was sentenced to a year in jail for her financial perfidy (though because of her health she'll probably serve her time in home detention with electronic monitoring). In the press to date, it appears that Dale Rathke is facing no legal action whatsoever.
[. . .]
ACORN's efforts to tighten up its financial controls to prevent future Dale Rathke repeats is late, but necessary and appropriate. The Rathke imbroglio does not mean that politically progressive advocacy organizations need to be "squeaky clean," meeting a higher standard of ethical behavior than other nonprofit or for-profit organizations, as some commentators have implied. Fundamentally, the advocacy-oriented national ACORN and service-focused local PTAs have to be clean, that's it. Stealing tax exempt funds that might have gone for school supplies from the PTA or mortgage counseling or voter registration delivered by ACORN, it doesn't matter, it's simply and thoroughly wrong.

It is and it goes to why ACORN needs to shut down and do so right now. Surprisingly,
Pravda on the Hudson
's Amy Goodman decided to take a half-look at ACORN this week with "McCain Campaign Accuses Community Organizing Mainstay ACORN of Fraud in Successful Mass Voter Registration Drive." As usual with Amy, it was pure propaganda. And of course she never raised the embezzlment question, she repeatedly cut off the right-winger she brought on for the debate, she played clips that advanced Barack (twice as much time as with the points Palin and McCain had raised). If you're going to debate ACORN, you certainly have to put nearly one million dollars of embezzlment (covered up) on the table.
Funny if you think about Goody providing her defense of community organizers last month, the issue of the embezzlment didn't come up then either, now did it?
Here's C.I.'s "
Iraq snapshot
:"
Thursday, October 16, 2008. Chaos and violence continued, the US military announces two more deaths, the crisis in Mosul continues and there's news or not news on the treaty masquerading as a Status Of Forces Agreement.
At the US State Dept today, Sean McCormack held a press briefing and was immediately pressed on the issue of the treaty masquerading as SOFA. "Nothing new on the SOFA," McCormack declared. "We'll just get that out of the way. . . . Nothing new. . . . No, I have nothing -- I have nothing new to report. The process continues." He did say that US Secretary of State Condi Rice had been on the phone "with some of the Iraqi leaders yesterday" and listed the ones he believed she spoke with but stated he would provide a list later. The list provided had Rice speaking with KRG President Masoud Barzani, Iraq President Jalal Talabani, Iraqi Prime Minister Nouri al-Maliki, Iraq's Shi'ite vice president Adil Abd al-Mahdi and Iraq's Sunni vice president Tariq al-Hashami. McCormack repeatedly stressed the SOFA such as when asked if Rice was focused on any other issue and he responded, "The focus -- her focus is on moving this SOFA process forward." Asked if there was a Plan B, McCormack replied, "We're focused on moving the SOFA process forward." Tossed out the possibility of an extension of the UN mandate (due to expire December 31st), McCormack responded, "I'm not aware of any serious contemplation of anything other than getting the SOFA done on our side. Again, I don't have perfect knowledge, but I'm not aware of any contemplation of anything other than getting the SOFA done. Asked if there was the possibilities of other options, McCormack replied, "I think the option is get the SOFA done."
This is not a minor issue. And if something is agreed upon between the puppet and the White House and, by some miracle, it manages to clear the Iraqi chains of approval quickly, you could have Bully Boy putting it into effect before the election or immediately after -- while Congress is out of session. It seems very unlikely that it could go through the approval process in Iraq that quickly; however, if it were to, Congress isn't even in session currently. Or, as Dana Perino worded it at the White House press briefing today (speaking of the economy), "Well, obvioulsy Congress isn't here [DC], but we try to keep in touch with them on a range of issues. . . . So Congress isn't even going to be back here until about November 17th." Morrell declared at the Pentagon today that there was agreement and that the treaty was just in the process of being reviewed by both sides. Where's the Congress on this? Where's the leadership?
Turning to other reported violence . . .
Bombings?
Shootings?
Corpses?
"John McCain won tonight's debate with strong, clear straight talk about setting a new direction for our country and fighting for working families. He outlined a specific, bold plan for creating jobs, helping those near retirement, keeping people in their homes, curbing spending, lowering health care costs and achieving energy independence. He vowed to fight for 'Joe the Plumber' every day he is President and he affirmed his belief that we shouldn't raise taxes just to 'spread the wealth.' While Barack Obama is measuring the drapes and campaigning against a man not even on the ballot, John McCain demonstrated that he has the experience, judgment, independence and courage to fight for every American."
iraq
the new york times
alissa j. rubin
stephen lee myers
qassim khidhir
times of london
deborah haynes
richard beeston
mcclatchy newspapers
hussein kadhim
the washington post
bill delahunt
rosa delauro
katharine q. seelye
the new york times
like maria said paz
kats korner
sex and politics and screeds and attitude
the daily jot
cedrics big mix
mikey likes it
ruths report
sickofitradlz