I got a really strong e-mail from someone I will call X.
I don't know him and don't want to embarrass him.
If he wants to be public, he can let me know.
X started reading my site because I am also African-American.
He was a strong Barack supporter and wrote that he would "cringe" over some of my critiques. But he was already catching on the race card that was being played by Barack and it was bothering him. Quote: "It's bad enough when Al Sharpton declares everything that happens is race but at least Al is Black. Barack's bi-racial and seemed to think the more he played the race card and pretended to be Black, the more he could deny his other half. He was someone trying hard to disguise something."
So the FISA cave and the Iraq War cave (the 'plan' was never a promise and it wasn't withdrawal) finally did it for X and he no longer supports Barack. He wrote many reasons why and reasons why he feels like he has to keep that to himself. One thing I did want to quote was this: "In January, I took part in bashing Bill and Hillary Clinton and calling them racists. I regret that now and realize they weren't doing anything racist. I listened to Michael BORE-son back then and fell into that trap. I think last week it became obvious to a lot of us" African-Americans "that Barack was playing us."
So the last third of his e-mail is about how he thinks I'll be upset because he's decided not to vote. While I would love to claim as someone I recruited to Ralph Nader, C.I. and I discussed this some time ago (in a roundtable) and we both noted that some people would not be voting. My own mother will most likely not vote. This will be the first election she's ever not voted in. She thinks she might vote for Nader in November and I'd love that but I think she's just going to stay home.
Regardless of what she does or what X does, our votes are our own. No one owns them. And we have the right to vote for whomever we want and we have the right to say, "I don't want to vote."
X asked in the e-mail that I not feel sorry for him because even though he's depressed, he feels smarter.
I don't feel sorry for him and he sounds smarter.
I'll also add that in the Black community, I'm hearing a lot of this. Barack no longer should be expecting a huge turnout from our community in November. He's attacked Black fathers repeatedly and that was so disgusting and toxic that it really was something that helped with what I call "The Awakening."
I am voting for Ralph. I hope everyone will take time to get to know something about him. I'd love it if you all voted for him. But your vote is your vote. All I ask is that you treat him like the genuine candidate he is by bothering to familiarize yourself with his campaign.
This is from Team Nader
:
Only Two Days Left in Contest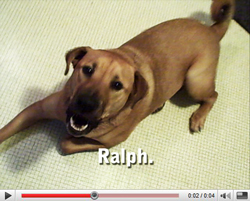 Only two days left in our Win Dinner with Ralph E-mail Contest.
Many thousands of you have signed on.
And a select few of you are competing for the grand prize of a dinner with Ralph.
This morning, Ramy Mousa from Baton Rouge, Louisiana tops the leader board with 263 friends that have joined our network.
But many more thousands of you haven't even played.
So, we'd like you to try it.
You bring us the e-mails of your friends, neighbors and countrymen.
We feed them up-to-the minute breaking news about the two corporate candidates - Obama and McCain - and the growing challenge by Nader and Gonzalez.
Nader/Gonzalez is an unconventional campaign, in many ways.
One, there is no national convention.
We're running as independents.
Two, we have a broad range of support.
Take Iggy Pup here, for example.
We asked Iggy.
Iggy, who ya going vote for?
Iggy, being on our e-mail list, knew that Nader/Gonzalez would shift the power from the corporations back into the hands of the people.
Check out Iggy's answer in this just released Nader/Gonzalez video.
But it's not enough for Iggy to be plugged in.
Or for you to be plugged in.
We have to spread the word far and wide.
And one way to do it is to build our network of supporters.
Just bring us five new e-mails, and you can be part of a special invite-only conference phone call with Ralph Nader and Matt Gonzalez.

But you have to get going.
The contest ends the day after tomorrow - Thursday August 7 - at 11:59 PM on the West coast.
There are other great prizes.
But most importantly, you'll be helping us spread the word.
About the candidacy that will stand up to the two corporate parties in November.
So, help us out - find five people right now that will join our network of supporters.
Click here to get started.
If you are already in the game, thank you.
You can track your ranking on our leader board.
Find more friends and family and colleagues, and watch yourself move on up.
We'll be announcing the winners in a week or so.
Thank you for joining.
Together, we are making a difference.
Onward.
The Nader Team
PS: We invite your comments to the blog.
Your contribution could be doubled. Public campaign financing may match your contribution total up to $250.
I really love Iggy Pup! I hope they use him in other posting. I saw the picture and he looked just like the dog I always wanted. (My dad wanted a big dog for the backyard so that's what we got when I was in elementary school. I always wanted a dog I could pick up and hold.) But Iggy Pup can be a stand-in for America. We are Iggy Pup! :) By the way, illustrations should be in tonight. C.I. logged in for me today around noon and played around. I needed some sort of changes and add-ons and C.I. did them for me (thank you!).
Here's C.I.'s "
Iraq snapshot
:"
Tuesday, August 5, 2008. Chaos and violence continue in Iraq, the stalemate in Parliament continues, Turkey continues to be worried, the Guardian of London continues to reveal that a political party's newsletter (New Labour) doesn't make for journalism, news of Robin Long, Ralph Nader and -- gasp -- the Undead Speaks -- meaning we should all keep a close eye on Yorba Linda.
James Branum: What's happening in Robin's case, Robin Long was an American soldier. And when he was recruited to join the US military, his recruiter and him were talking and Robin told the recruiter, said, "I'm okay with being in the army but I don't want to go to Iraq. I don't believe in it." Recruiter said, "Don't worry about it. You won't have to go to Iraq. I can make sure you won't. In fact, you'll be stationed at Fort Knox here in Kentucky. So Robin thought, "Okay, I can live with that." So he did that, he joined. Turned out the recruiter was honest about one point. Yes, he was stationed at Fort Knox [. . .] however he was told very quickly, "Yes, you're going to Iraq and you're going to be sent to Fort Carson, trained to go to Iraq and then, after that, you're going to be sent there." So Robin, what he ended up doing was, he ended up going to Canada and there's a lot there that I can't go into about his story but to make a real long story short it was an issue of conscience at the end of the day. He had to do what he felt was right. He couldn't do something that he felt wasn't right. And he couldn't go. That's what it comes down to. So when he got to Canada, he was living his life. He applied for aslyum status so he could stay there. And he was working. And as an asylum seeker, he was able to get a work permit and what-not. He also had a son while he was there who's now about two-years-old. And he had his life very well established. He did a lot of different jobs. All kinds of different stuff. For awhile, he was a fruit picker. He worked in different orchards. In fact, that's kind of what got him into trouble cause when he was working as a fruit picker, he was a seasonal migrant worker, you know? And so he was, for awhile, out in British Columbia. And he was previously in Ontario and there was a misunderstanding [. . .] from Canadian immigration about where he was supposed to check in to. And Robin thought he had checked in like he was supposed to. The immigration authorities say he didn't. There's a misunderstanding there. But to make a really long story short, even though Robin was fighting this in the Canadian courts, the Canadian officials pulled a sneaky manuever -- basically, they were able to fast-track him through deportation within four days so that he or his lawyer did not have time to respond appropriately in the Canadian system. And so he was trapped and he was sent to the US.
And what happened was he was held in jail for a few days in Canada and then he was handed over to US officials at the border. And actually, the Canadian officials even told the US officials, "Here's your deserter." Handed him off. And so from there, the immigration officials transferred him to a local jail and he was held in two different local jails for awhile before the military came and picked him up and transferred him to Fort Carson, Colorado. And at that point, at 11:30 at night, they had a hearing to decide whether he would remain in what is called pre-trial confinement. Because in the military, you don't get bail. Basically, you either are released before your trial or you wait in pre-trial confinement.
So they had a hearing late at night. Robin was put into jail. And since that point, he has been held here in Colarado Springs in the Criminal Justice Center in El Paso County -- basically just a regular old county jail with all kinds of people, dangerous criminals many of them, and it's a difficult place to be. But Robin's in good spirits and we're now dealing with the consequences of his action in the military courts here.
Robin Long was extradited
. He was not deported. If that wasn't obvious before, it should be from the description above. Judge Anne Mctavish needs to be held accountable for her actions. The extradition process in Canada would have immediately opened up other avenues of appeal for Robin. That's why she didn't want to call it "extradition." Calling it "deportation" allowed her to act with NO OVERSIGHT. It wasn't deportation and -- repeating again -- as the father of a young Canadian child, the immigration laws in Canada are very clear about Robin's rights to stay in the country. It would be politically beneficial to the New Democratic Party, the Liberal Party and Bloc Quebecois to call for Parliament to hold an investigation into how Haper's government and Mctavish allowed Long to be extradited while telling the people of Canada he was being deported.
I would like to thank Mr. Moore for his letter of July 18 in response to my earlier letter on conscientious objectors. Although I disagree with Moore's opinion on the legality of the Iraq war, I truly welcome honest public debate on important matters such as this one.
The unsanctioned invasion of Iraq occurred March 18, 2003, a full seven months before the UN Security Council passed Resolution 1511 to ensure the "restoration of stability and security" in response to the chaos caused by the invasion. The resolution does not and could not provide retroactive exoneration. The fact remains, Stephen Harper would have committed Canada to this illegal war if he were Prime Minister at the time.
As for Afghanistan, I would much prefer that Canada was there with our original intention of peace-keeping and reconstruction. However, our troops deserve our full support in this new, combative role, which is sanctioned by the UN.
The point of my letter was that the Conservative government must respect the motion on conscientious objectors passed by Parliament. Harper himself said the government has a moral responsibility to respect such motions. This motion is based on an issue of fundamental human rights, and it is downright callous to ignore it.
According to an Angus Reid poll conducted June 6 and 7, 2008, after Parliament passed the motion calling on the government to make a provision to allow war resisters to stay in Canada and to cease all deportation and removal proceedings, two-thirds of Canadians want Canada to grant permanent residence status to U. S. Iraq war resisters.
The Harper Conservatives are afraid of raising the ire of their ideological cousins in the Republican administration but, ignoring the democratic will of Parliament and the views of the large majority of Canadians will only raise the fury of Canadian voters who want a more progressive government that reflects Canadian values.
Steve Clarke, Federal Liberal candidate for Simcoe North
Turning to some of today's reported violence . . .
Bombings?
Shootings?
Corpses?